How long do serviced office viewings take is a question we are asked on the regular. We understand that time is of the essence and the Commercial Real Estate sector is evolving to be increasingly digitalized to match the need for speed. Flexioffices have our finger on the pulse: we've been busy partnering up with Smart Viewings to bring virtual property viewings to the flexible workspace sector - from the very first viewing. Below we outline how virtual property viewings take and key considerations to factor in on your viewings, such as who else is present and how many buildings you'd like to see.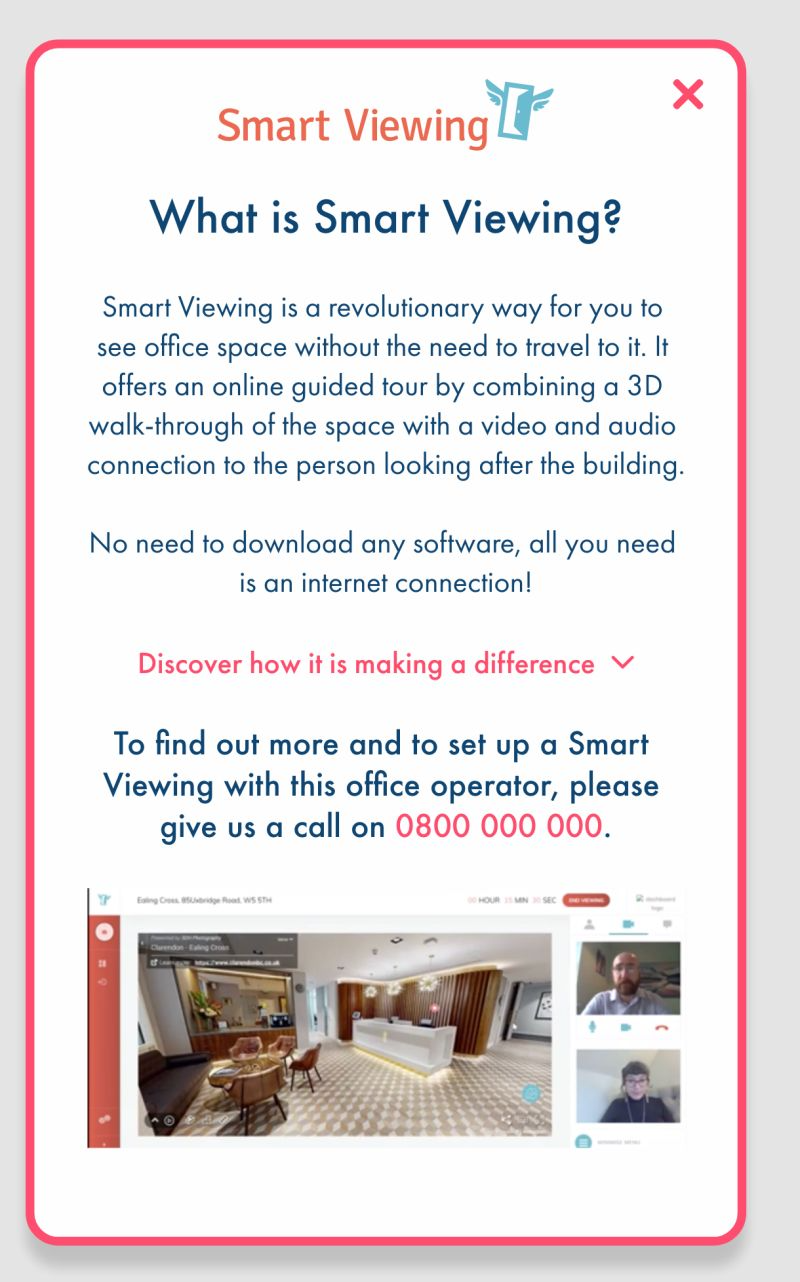 How long do virtual property viewings take?


Online Guided Tours should take between 10-15 minutes per building.
However, we offer you a 45-minute viewing slot - the same time as an in-person serviced office viewing. This means you can:
- See everything.
Walk around an entire office building in a 3D Matterport environment (in a quarter of the time a physical viewing would take!)


- Ask questions.
Ask the building manager all of your questions - exactly as you would in person.

- See as many buildings as you'd like.
If you're really feeling the look and feel of a workspace but don't love the kitchen, for example - Smart Viewings allow your host to show you a different building in the provider's portfolio at the flick of a switch!
A couple of things to consider so you can anticipate how long a viewing will last:
Who's present?

In Smart Viewings, there is a two-way video interface that you and the building manager will be on so you can ask questions as you are guided through the tour of the office/ workspace.
Smart Viewings allow you to invite additional attendees from your team.

You can invite additional participants to attend the viewing and see the video stream (though they are not on the video themselves) and all of you can see and hear everything, as well as put any questions/queries into the live chat box.
How many office spaces for rent would you like to see?


Simply put: Online Guided Tours save everyone time, in every sense of the word:

- No commuting.
Who else loathes a commute? This is a massive benefit: reduce your carbon footprint by viewing your flexible offices to rent online.


- No time wasted looking at something you don't like. If you're seeing something that you know immediately isn't the right aesthetic/appropriate space for your business, you can move on to something that is.
How do I know if I can view somewhere online?
Great question! Check what buildings are Smart Viewing Ready across our website - they'll be marked with the #SmartViewingReady badge.